Increasing Middle East Centricity in global carbon reduction efforts
The Global CCS Institute has established an office in Abu Dhabi as part of its ongoing support for supporting communities in accelerating CCS deployment. We at Net Zero Legal Solutions, the energy transition division of HFI Consulting International, were delighted to establish this Middle East presence for the Global CCS Institute.
The HFI Net Zero Legal Solutions' role included advising the world's foremost CCS think tank on the key issues and options for establishing in Middle Region and the implementation of the business establishment at Masdar City Free Zone (MCFZ) in Abu Dhabi, done in association with HFI's local legal and corporate services partners. HFI Net Zero Legal Solutions managing partner, Hugh Fraser, has also taken up the role of interim general manager of the Abu Dhabi branch pending a permanent appointment to the position.
There are more details about the vacancy and the role of general manager for the Gulf Cooperation Council Region, based in Masdar City Abu Dhabi here.
MASDAR City Plus+ Corporate and Compliance Solutions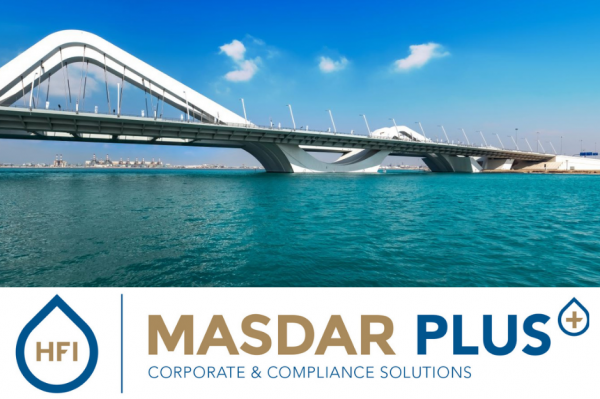 The project has seen HFI extend its DMCC Plus+ specialist service to a new MASDAR City Plus+ Corporate and Compliance Solutions service to support businesses who wish to be based in that renewables and clean energy hub location free zone and its proximity to ADNOC Group, Mubadala Investment Company - which is driving diversification in the UAE - and the International Renewable Energy Agency (IRENA) which is based in Abu Dhabi.
There is an increasing Middle East centricity in the development of global carbon reduction efforts and the technologies required to reach the COP21 Paris Agreement with capacity projected to grow from 2 million to 100 million tonnes of CO2 capture per year, making this region attractive to those who want to capitalise on their innovations.
Qatar Ventures Initiative (QATVI)
Qatar Petroleum's US$30 billion North Field Expansion project has a carbon capture and sequestration system at the heart of its wider CCS scheme in Ras Laffan which, once operational, will have the largest capacity in the LNG sector at a projected 5 million tonnes of CO2 capture per year.
We work with local partners on all of our initiatives, including in Qatar on our Qatar Ventures Initiative (QATVI) which has a focus on clients' local partner joint venture initiatives.
Reducing the carbon footprint of the United Arab Emirates

The Al Reyadah Project is an integrated commercial-scale project at Mussafah in Abu Dhabi which is capturing up to 800,000 tonnes of carbon dioxide from the flue gas of an Emirates Steel production facility and injecting the CO2 for enhanced oil recovery in the Abu Dhabi National Oil Company's nearby oil fields. The main objectives of the project are to reduce the carbon footprint of the United Arab Emirates, implement EOR in subsurface oil reservoirs, and free up natural gas that would have been used for oil field pressure maintenance. The project is part of an overall master plan which could also create a CO2 network and hub for managing future CO2 supply and injection requirements in the United Arab Emirates.
Blue and Green Hydrogen in the UAE

The United Arab Emirates is also targeting carbon capture hydrogen – blue hydrogen derived from natural gas – with the aim to be one of the lowest cost and most prolific producers in the world, as well as investing in green hydrogen – derived from electrolysis of water using renewables power.
Our Abu Dhabi Ventures Initiative (ADVI) supports businesses establishing or repositioning in the emirate navigating around local partner agreements, levels of foreign ownership and compliance. The ADVI service will now incorporate the MASDAR City Plus+ Corporate and Compliance Solutions Service.
Saudi Arabia and Germany sign hydrogen MoU

On March 11 2021, HRH Abdulaziz bin Salman Al Saud, Minister of Energy of Saudi Arabia and German Economic Affairs Minister Peter Altmaier signed a Memorandum of Understanding (MoU) establishing cooperation on hydrogen. The MoU formalises the commitment of both countries' governments and industries to cooperate closely on the production, processing, use and transport of blue hydrogen with carbon capture, utilisation and storage (CCUS) of emissions. Saudi Arabia and Germany will collaborate on hydrogen projects like NEOM ('new future') and establish a road map for the mutual sharing of expertise, technological know-how and a "bilateral innovation fund for the promotion of clean hydrogen". Saudi Arabia is ambitious to establish itself as a global export powerhouse in the green hydrogen market, replacing possible future declining oil revenue with revenue from the production and sales of hydrogen.
Our Saudi Arabia Ventures Initiative (SAVI) has recently supported new ventures by AccessESP and Praxis Completion Technology as clients navigate around local partner agreements, MISA approvals and registrations, Aramco vendor registrations, IKTVA compliance and more challenging taxation regime.